Daniel was born in Brazil and his family immigrated to the USA when he was young. While in college at Texas A&M, he met Jessica while working at a Christian camp. After graduating in Industrial Engineering, Daniel and Jessica were married and Daniel began a career as a businessman. After a few years the Lord began multiplying their family and they now have five children. In 2010, their lives changed drastically when the Souza's moved to Minneapolis as God called Daniel to pursue a seminary degree from Bethlehem Seminary. In 2013, an opportunity appeared with a church in Belo Horizonte, Brazil. The Lord opened their hearts to missions and they arrived at Comunidade Horizonte, Campus Outreach's hub church in Belo Horizonte, in August 2015. In October 2019, Daniel will take over as teaching pastor for Calvary Chapel Mount Pleasant.
Hi, it's me, James. I just wanted to introduce myself and give you a little background information about me and my amazing family. I met my wife while I was still in High School we dated for about 4 years before we married in March of 2006. We have 7 amazing kids Justice (12) Dawson (11) Eli (8) Autumn (6) Maddox (4) Ember (2) Raylee (6m).
It always amazes me how God works in the life of His kids. I was no exception, I was saved at the early age of 8 but really didn't pursue the God who saved me. That changed when I was 16 and the Lord got ahold of my attention. I rededicated my life and started to pursue the savior of my soul. I saw God direct me to the right university, which in turn landed me a job in Pittsburg TX. I worked for Pilgrim's Pride and then at Priefert in Inventory Control. But no matter where the Lord had me I always knew I should work with youth and children. While attending a church in Pittsburg, I felt the Lord calling me again in a new direction. He wanted me to work in AWANA, something I hadn't done since college. But when God calls we must follow, so after a quick google search we were out looking for where the Lord would have us serve next. So a little over 8 years ago we walked through the doors of Calvary Chapel and have been here ever since.
The Lord has shown me so much as I have walked with him over the years, but the verses that really drive me are found in Matthew 5 in the Sermon on the Mount. In verses 13-16 Christ is calling us to be salt and light in the world around us. It has been my desire to live a life that would point others to Christ and to share with those around me to live the same. Our faith must be personal and we must live in a way that it makes a difference in the world around us.
Michael was born in Mt. Pleasant, TX, March 29, 1974. He was raised in Daingerfield and still lives there, today. He was probably a week old when he first entered the doors of the local baptist church. Growing up in the church, Michael was an avid member of each choir group, according to his age. He became a Christian March 26, 1988, while attending a Dawson McAllister youth conference in Bossier City, LA.
He was married to his wife, Cindy, August 13, 1994 (coincidently, he has that date tattooed to his finger to be sure to never forget it). They have two children: William and Ashleigh. He and Cindy grew up in the same church, but really didn't know each other very well, until his junior year of high school. He saw her at lunch and the rest is history.....
Michael and his family were among the first families to attend Calvary Chapel, when they were meeting in (Pastor) Dave Anderson's living room.
Michael had always felt that God would use him in some way to minister through music. It has been an honor for him to be an elder of this body and to lead this congregation in worship, through song. One of Michael's favorite scriptures would have to be the latter part of Isaiah 53:5, "......by His stripes we are healed."
Michael welcomes anyone that would want to talk to him about anything, to come to him. At times, he may seem to be a bit shy and quiet, but just ask his wife, if you get him started talking, you may never get him to stop.
In 2017, we felt the call of Children's Ministry and followed. This is a family operation. I am married for 18 years to Juan. We have 3 amazing children, Evelyn, Audrey, and Jovan.
I have always known that God is in control of all. This past year has been a year of letting go and letting God have control. When I want to take control I listen to "King of the World" by Natalie Grant and praise God!
Since following God's call, I have changed to teach Kinder at Vivian Fowler where I was elected Teacher of the Year for my campus and have begun a prayer meeting every Monday morning before school begins. I have witnessed amazing things this past year. I have learned in all things praise God and to be prayed up always!
Norman Vincent Peale said, 'A positive mental attitude is a belief that things are going to turn out well, and that you can overcome any kind of trouble or difficulty.' Jesus said, 'With God all things are possible' (Matthew 19:26). This is far more than the power of positive thinking. It is the power of God that makes what seems impossible possible. Nothing is impossible with God (Luke 1:37).
If you ever feel God calling you to volunteer to work with our children, my door is always open.
Praising the Lord for her husband Barry, Brandi takes care of the family and home schools their children, Eliyah (14), David (12), Ariana (9), Isaac (7) and Sophie (7).
In addition to keeping up with the kids, Brandi teaches fitness classes five days a week. The pull toward exercise is accompanied by a love of cooking, baking and sharing that love with other families.
Brandi has served in Awana ministries for five years before accepting the role of Awana Commander this year. Working with children and seeing the excitement in learning bible verses is a joy. She is thankful for those who bring their children to church and especially to those who serve in Awana.
The whole family is grateful for a community of God fearing people who care for one another.
"By humility and the fear of the Lord are riches and honor and glory"
Psalm 22:4
Craig Pruitt has been a part of Calvary Chapel since 2012 and is currently serving as an elder. He is a licensed professional counselor here in Mount Pleasant and has been in private practice for 23 years. He hosts one of Calvary Chapel's Connect Groups and has been married to his wife, Maranna ,for 36 years. Craig has a passion for people's well being and how they can grow in their relationship with Jesus.
Brant is one of the newest elders. Brant lives in Winnsboro with his wife Cara of 15 years and 2 children Ethan and Emerson. Having grown up in Kansas with his parents and brother he attended a Christian Church with his mother. He describes his relationship with his brother a very special one in which God taught their family many lessons on grace and mercy, through his brother's disabilities.
Brant came to know Jesus Christ as his Savior as a pre-teen but it wasn't until much later in adulthood that he truly embraced a relationship with Jesus Christ. He explains that realizing the need for his own humility and true need for a savior lead him to seeking God's presence in every facet of his life. His favorite scripture is Isaiah 53:5 But He was wounded for our transgressions, He was bruised for our iniquities; The chastisement for our peace was upon Him, And by His stripes we are healed., as this reminds him of the true cost of our salvation, paid for by our Savior, Jesus Christ.
James Blevins and his family have been a part of Calvary Chapel since 2007 and is currently teaching and helping with junior high and high school Trek and Journey (AWANA).
James is married to Kelley and father of Elisha, Isabel, and James. Having travelled during his early years in life, he had literally no idea of who Jesus was and never heard about it until he was teen. At 15 he found himself in a position where he could not resist the offer that Christ had presented, received the gift of grace, and has been working out his salvation since.
James has been a part of several church plants in the past and worked on an evangelism and discipleship teams to reach international college students and aid freshman students in the transfer from high school to college.
At the core he believes in Christ Alone, Through Faith Alone, by His Grace Alone. His key Life Verse for the past 20 years has been 2 Timothy 2:2. "and what you have heard from me in the presence of many witnesses entrust to faithful men, who will be able to teach others also."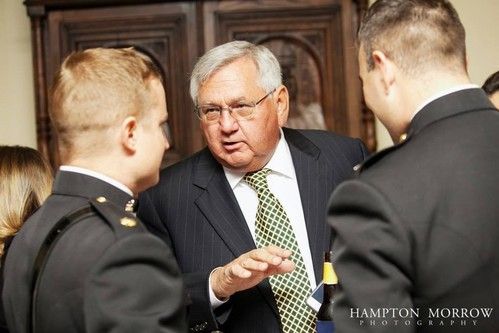 Ronny Narramore has been a member of Calvary for 13 years. He is not much for the public eye. But, what he does behind the scenes in encouraging and exhorting the board is a large part of what has made the fellowship what it is today.
Ronny has consistently encouraged Pastor Dave to faithfully teach through God's word and stay connected to His Holy Spirit. Ronny is a compassionate and caring man of few words who you can count on. He counts on the Lord and His word to sustain him and has exemplified this greatly in recent years.
In the year to come Ronny is looking into rekindling some of the studies and get togethers he used to host in the community for men, that were put on hold for a season.
We are very thankful for his leadership and counsel. Contact him if you ever have a concern. He will get the answer for you.